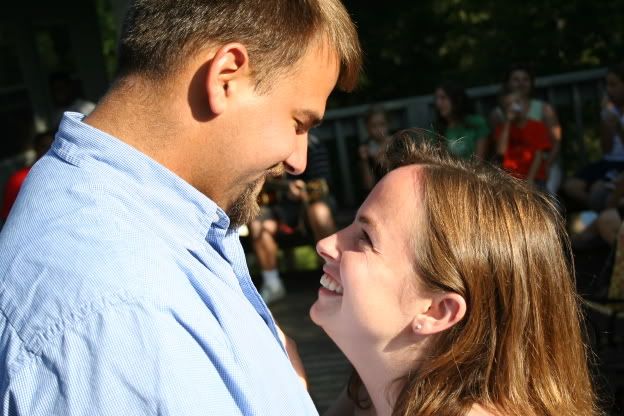 Many have asked me to put my wedding story in writing. So here goes...:)
Six years ago, I lived in New Orleans and served in full time ministry to inner-city girls. I loved my job, my life, and many of the girls were like they were my own. I also strongly desired to be married and have children. Devoted to the girls, and living in the inner-city, it was hard to meet guys that were following after God's heart. So after six years of ministry, I tried out the online dating scene. I kept this secret for fear of being teased, until one day I actually met someone.
This someone happened to also live in New Orleans about ten minutes away from me. We chatted online and it was strange that we seemed to get each other and finish each others sentences. After connecting so well online, my online pen pal gave me a phone call. We talked on the phone a couple of times and then we decided to meet (at a public place during the day). We met at the Audobon Zoo, had lunch, and then went to the Aquarium. During our full day date, we really hit it off and were together almost every day the following week.
My first impressions of him that I can remember: Tall with blue eyes...got me there! Very smart, he named every species of bird and fish that we saw. Outdoorsy and adventurous...a fun match for me! Also a believer, he had come to Christ in college as did I.
My girls really liked him too. They called him Tim McGraw. Because, of course, he looks just like him. Well not really, but to some all white people look alike. :)
We talked and got to know each other pretty quickly. From the start, our relationship was not about just going out and having a good time, but about discovering if we could be life partners in marriage. So we talked about our ideas of family, our backgrounds and baggage, thoughts about ministry and race, thoughts about adoption, thoughts about Christ and church.
I convinced him to move into the ghetto and room with a guy friend of mine. The purpose was two-fold, one so that said friend could get to know him and give approval and two so that I could see if he would live out what he said about willingness to live among the poor. He passed on both accounts.
We also visited each others families and after dating for less than six months we were engaged. I believe in short engagements and low cost weddings. Our wedding date was set for Oct. 1, 2005 with an engagement of less than four months. We made plans and spent little to have the perfect wedding with a jazz band and soul food in Audobon park under an amazing canopy of oaks.
TO BE CONTINUED...